2018 was an interesting year for smartphones in the India market, with a series of steady and even impressive, smartphones from all major brands, Chinese as well as Global. Across price bands, there were many smartphones vying for attention with their incredible design, craftsmanship and performance.
More than ever before, smartphone innovation picked pace in 2018, and promises so much more in 2019. In 2018, the rise in smartphone demand could be attributed to decline in product re-placement and upgradation cycles, as a result of aggressive smartphone launches across price-points. This, in turn, were supported by an array of product financing schemes, discounts and buy-back offers to entice customers. The mobile handset industry grew by 19% YoY in 2018, with feature phones growing by 19%, and smartphones enjoying a 21% YoY growth.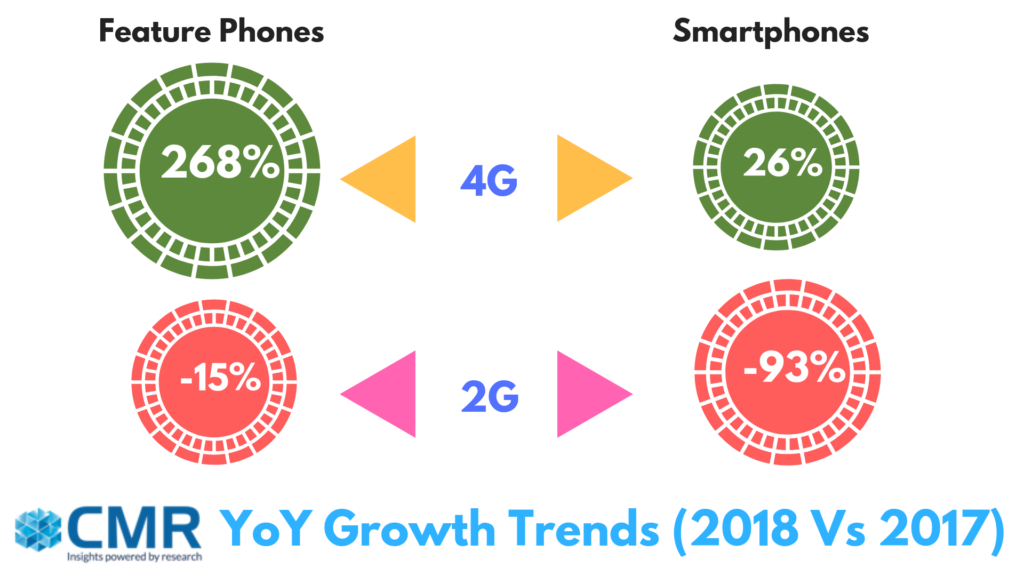 2018 witnessed an overall decline in 2G featurephones on a  Year-on-Year (YoY) basis, with a number of operating brands facing a decline on account of low margins. 4G featurephones grew Year on Year (YoY) as a result of attractive bundling offers from Jio making it feasible for buyers. Online channels, such as Amazon and Flipkart, provided a much-needed growth impetus to declining brands like Asus and Huawei/Honor.  They also enabled the entry of new exciting brands like Realme, and providing a new opportunity for Asus. Online channels offered attractive buy-back offers, deep discounts, free data bundling by telecom operators and attractive financing schemes to attract buyers. In 2018, the online market grew beyond the established Tier 2 cities, providing a wider coverage and scope for entry-level as well as established brands.
Mobile handset shipments will reach around 350 million mark in 2019, driven by smartphones and 4G featurephones, while 2G featurephones will fall.
The Indian smartphone market will experience a positive growth upstick in 2019, building on the momentum from 2018, with smartphone shipments anticipated to top 160 million.
The unwavering theme of 2018 was focused on performance, speed and the camera.
Smartphone Design
While phone designs remained homogenous throughout 2018, there were some minor iterations in terms of efforts by handset manufacturers to increase screen size estate. This meant more narrower bezels, and creative notches – including waterdrops and dewdrops.
The OPPO Find X, and VIVO NEX came up with some creative solutions to remove the notch, and include a hidden camera.
In-screen Fingerprint Sensor
In 2018, VIVO introduced the first-ever in-screen fingerprint reader. They use optical sensors, and they shine light up through the screen to read the fingerprint on the display. While it works like a charm, such in-screen fingerprint readers can be inaccurate, given that light diffracts through substances like water.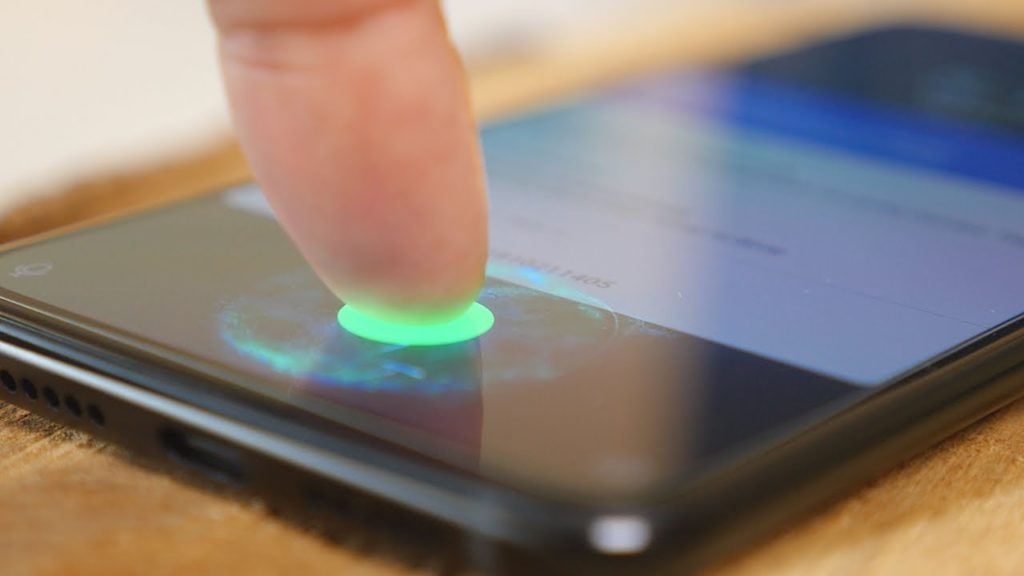 Such in-screen fingerprint readers also started appearing in other flagship smartphones, including the OnePlus 6T.
In December 2018, Qualcomm announced plans for the first 3D ultrasonic fingerprint sensor for smartphones. The 3D ultrasonic fingerprint sensor is capable of  reading fingerprints through contaminants, such as oil and water, and reading the fingerprints through sound waves, mapping the peaks and valleys on a fingerprint to authenticate the user.
Camera continued to occupy the centrestage
In 2018, all the major flagships continued to deliver excellent camera features and photography. While AI continued to be the main calling card, there was a deeper focus on getting low-light photography right, whether it be Google Pixel 3's night site mode, OnePlus's nightscape mode, or Huawei's night mode.
Wireless charging and Water-Resistance
Wireless charging continued to elude the aspirational premium smartphones, and remained confined to the uber-premium smartphones. Similarly, water-resistance still eluded the aspirational premium smartphones.
RIP Headphone Jack!
With OnePlus dropping the headphone jack, it is inevitable that the headphone jack feature would soon be lost. Only a couple of brands, including Samsung and LG still sport the headphone hack.
Longer Battery life
In 2018, smartphone batteries got bigger and bigger, to support activities such as gaming, streaming video, and road navigation. The focus was on smartphones to go all day on a single charge. OPPO with its SuperVOOC charge impressed with its radical charging times, that can go from 1% to 100% in just 35 minutes.
In terms of the smartphone leaderboard, the major brands left their mark on the smartphone race.
Pricing and Positioning
Upwards $1000 seems to be the new hot focus area for premium smartphones. Uber-premium smartphones are here to stay with many Android smartphone brands venturing into the segment carved by Apple. Come 2019 and 5G, this segment would see further growth, with even brands like OnePlus jumping into this segment.
The Smartphone Leaderboard
The smartphone leaderboard saw Xiaomi and Samsung in a close race with new offerings through the year.
Xiaomi ruled the Indian smartphone market in 2018, with product offerings across the price band. 2018 was notable for the marked offline growth that Xiaomi chartered for itself, wherein it looked at growing aggressively in Tier III cities and beyond, including Rural India.  Xiaomi launched more than 500 flagship Mi stores across 14 Indian states, plans to scale it up to 5000 outlets by end-2019 to combat its online sales plateau, and boost its market pie.
Samsung continued to lead the market in terms of technological innovations and growth in overall handset market. 2018 was remarkable for Samsung as it launched the world's largest smartphone factory and the world's largest experience store in India. 2019 will be a crucial year for the brand, as it forays into foldables and 5G devices. Worldwide, Samsung would enjoy a lead in offering 5G devices. In India, Samsung is earnest about its increasing competition, and is looking at an early lead with three new smartphones from its Galaxy M Series, slated for launch in January 2019.
 In terms of smartphone innovation, VIVO and OPPO introduced many world-firsts in tackling the notch, and making the overall user experience better. While VIVO is expanding its manufacturing operations in India, OPPO has opened a new R&D hub to develop India-centric innovations, and new intellectual property from India.
At number 5, while Huawei came up with new smartphone offerings in the mid-range and premium segment, Honor took the online route, and was active in the budget and mid-budget segment.
So, what's next?
2019 – the Year of 'More'
While 5G and Foldable smartphones would be the two key highlights of 2019, there will be many sub-texts and side-shows to the hypercompetitive smartphone battle.
Year of 5G?
With 5G phones slated for launch from the likes of Samsung, Xiaomi, and OnePlus in 2019, the road to 5G will be real. The 2019 Android flagships will be super fast  and efficient, thanks to the new Qualcomm Snapdragon 855 Mobile Platform.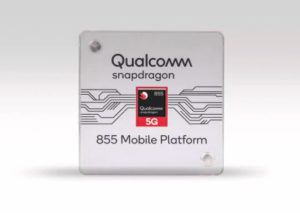 855 will provide support for multi-gigabit 5G.  The 855 chip features Qualcomm's 4th-generation, multi-core AI engine to deliver up to 3x the AI performance of last year's chip. This should allow for more efficient and powerful on-device machine learning to power the next set of smart features.
Beyond the Android flagships, it is also important to note that Apple will come in with their 5G potentially in 2020, and Jio in 2021. So, the first meaningful upstick for 5G smartphones in India is expected by 2020, and with a positive growth curve from 2021 onwards, by which time, the 5G ecosystem should be functional.
Foldables
In the second half of 2018, smartphone manufacturers like Royole and Samsung, exhibited their foldable smartphones. In 2019, one can safely predict foldables from Samsung, and potentially from OPPO, Huawei and others, to foster radical smartphone innovation, and debuting in the smartphone market in the premium and uber-premium segment.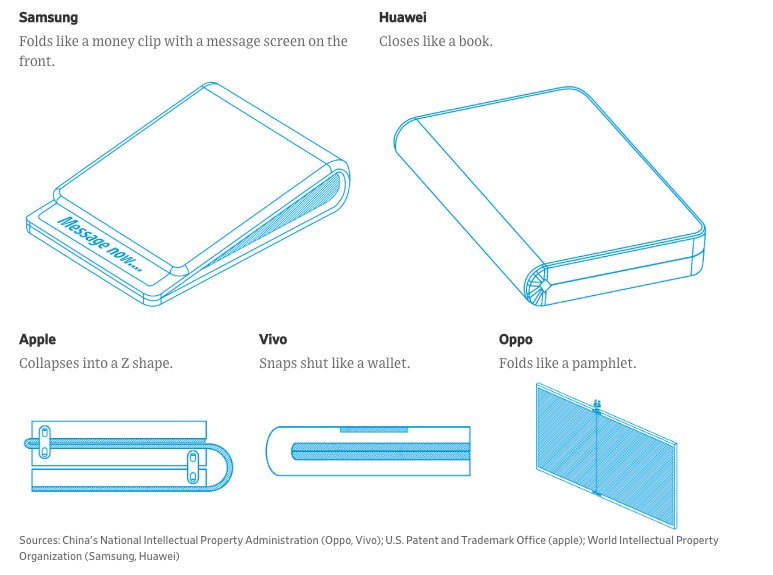 Beyond 5G and Foldables
Camera
The Single Pinhole Notch
In the race to remove the notch, many experiments came up in 2018, including the pop-up cameras. In 2019, the new trend would be of pinholes, with both Huawei and Samsung supposedly sporting the pinhole in their upcoming 2019 smartphones.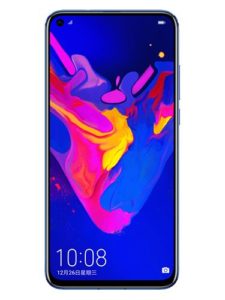 >40MP selfie camera
Given that camera continues to be the point of focus for smartphone brands, many brands are investing in improving the specs therein. In 2019, the new setting for cameras will potentially be 40MP. Already some smartphone brands, including Huawei and Xiaomi have flaunted their 48MP selfie cameras.
Triple and Quadruple Cameras – New Standard
While the double camera lens has been a standard feature for most premium flagships, there is a new trend to go beyond and add more camera capabilities. Samsung with its Galaxy A7 and A9, and Huawei with its Mate 20 Pro, came up with multi-camera set-ups to woo the consumers.
In 2019, one can anticipate more such smartphones with triple, Quadruple camera set-ups to become a standard. Already, Nokia has promised a penta rear lens, and LG has a new patent on a camera set-up involving, 16 rear cameras. A sign of things to come.
Sound
Untapped Opportunity: Shift to USB-C headphones
In 2018, OnePlus released the OnePlus Bullets, a USB-C headphone, that offers exceptional performance. The market for USB-C earbuds is still relatively nascent. In 2019, more smartphone brands would vie for the USB-C segment. If large smartphone vendors, including the likes of Samsung, were to come-up with amazing earbuds, they would be able to garner a lion's share of the market.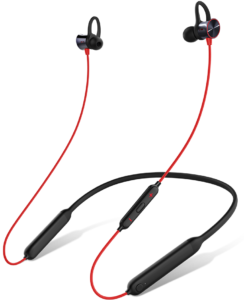 Increased Qualcomm AptX Support
As the smartphone is the first and primary mode of media consumption for consumers,  2019 will see an increased trend of more smartphone brands partnering with companies, such as Qualcomm for aptX supported headphones and earbuds. Take for example, the OnePlus Bullets. For smartphone brands, this will be a logical move to build on an ecosystem of accessories and associated services around their smartphones. As a result of increased AptX uptake, one can experience  decreased latency while binge consuming videos from OTT players.
Smartphones with Screen acoustic technology
Using sound on display OLED panel, smartphone brands have the potential to further increase the screen-to-body ratio of smartphones. Already, brands such as Samsung and LG have showcased screen prototypes that double as speakers.  One can anticipate the established smartphone brands to introduce such innovations, in second half of 2019 onwards.
In Conclusion
The smartphone market is a hyper-competitive market, and innovation cycles are swifter than ever before. Beyond the trends captured above, there could be much more innovation by smartphone brands to get consumer appetite going, and to increase their market share.