As the tensions between India and China rise, India has banned 59 of China's biggest mobile phone apps, including TikTok, WeChat and apps from Xiaomi, India's No. 1 Smartphone brand. The ban on Chinese apps has been on the grounds that the apps are 'engaged in activities which is prejudicial to sovereignty and integrity of India, defence of India, the security of the state and public order'.

This unprecedented and drastic move is driven by increasing anti-China sentiment on ground owing to simmering border tensions. Here are some thoughts on what comes next.
As India leapfrogged to become a vibrant mobile-first nation, driven by increasing availability, accessibility and affordability of smartphones across price-points, and complemented with the lowest data rates, India connected with the Internet for everything from education to economic inclusion, and, from healthcare to entertainment. Many of the millions of first-time users came online on Chinese smartphones, and with Chinese apps connecting them online. Millions of Indians found avenues to express their creativity online through these apps. It is not surprising, therefore, that for the Chinese apps, India has been their largest market. TikTok commanded >200Mn users, and apps, such as ShareIT having >400M users.
As of yesterday evening, TikTok is no longer available on both Android and Apple app stores, with other apps also being phased out. I believe 30-33% of the smartphone users will be affected by the order.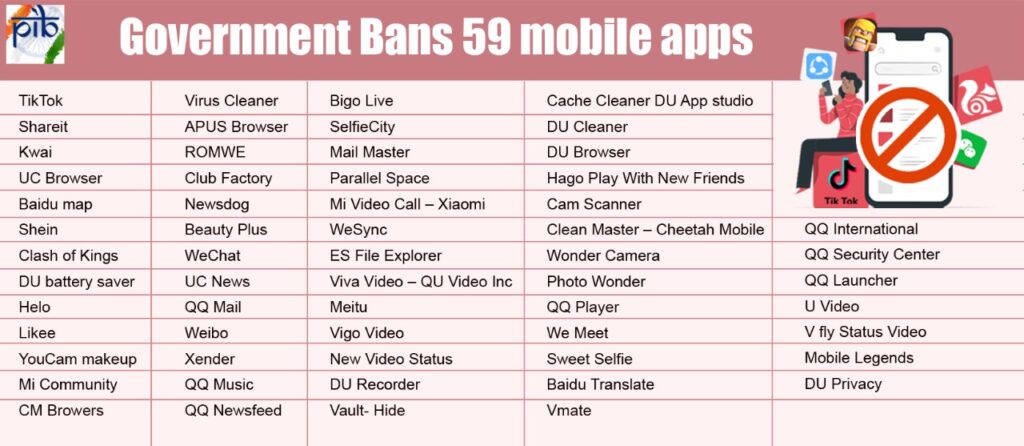 As per estimates from research firm, Sensor Tower, the 59 banned apps cumulatively had 4.9Bn app downloads in India, across Android and Apple. 75Mn were added in H1 2020. What is interesting is a claim made by Byedance in 2019 in Indian courts that TikTok was losing >$5,00,000 per day in India owing to the temporary ban then.
Prior to the ban on Chinese apps, India has been going slow, withholding Chinese origin consignments for a 100% examination. This delay in issuing clearance of Chinese imports at ports and airports – affecting mobile, telecoms and consumer goods is leading to curtailing of production in manufacturing locations.
For the Chinese players, the escalating tensions between the two nations will affect their growth beyond their national borders, and especially in India. If other nations were to follow India's cue, this will further affect the Chinese.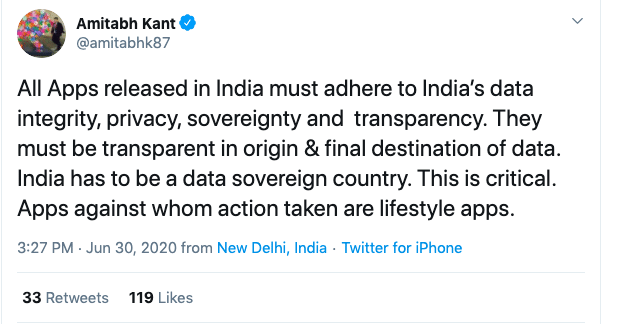 TikTok has responded to the ban with a statement:
"Building empowered local management teams in the countries where TikTok operates, including India, has been critical to our global success. Our team of around 2,000 employees in India is committed to working with the government to demonstrate our dedication to user security and our commitment to the country overall."
It will be interesting to see how the ban would affect Chinese smartphone brands, including Xiaomi.
Over the short-term, influencers on TikTok will seek to move to Instagram. The current ban provides opportunities for homegrown apps, such as Chingari and Roposo to scale-up and acquire users. For others such as Facebook, this could provide them with an opportunity to introduce Lasso.
The dark horse would undoubtedly be Jio Platforms that has an ecosystem of apps. Airtel had an opportunity with Hike to build a TikTok clone, and it would be ruing its missed chances.
Is this the Tipping Point for Made in India Apps?
For Indian start-ups and app developers, these unprecedented times have brought forth a unparalleled opportunity to seize the moment, and develop apps to fill the white space.
Until now, India's approach to app development has been predominantly need based. This approach tied well with the conservative VCs who were risk averse or did not have the appetite for the kind of risk associated with B2C entertainment-focused apps. It is a fact that building such apps would require immense capital, and entail high cash burnout.
Secondly, to some extent, the entrepreneurial mindset has been to bet on ideas that went big somewhere, and transplanting them in Indian milieu – a recipe that could get the capital, but not the user mindshare. So, while capital was not a challenge, getting the users was.
If one were to look at the landscape of the homegrown apps, we would find most follow a O2O (online to offline) business model, wherein apps had to build a strong offline network to monetize, and thereby, fuel their growth. A case in point – boutique Urban Ladder shops that offered customers with a opportunity to experience the product.
This current ban episode, therefore, represents a truly tipping point for Indian start-ups and entrepreneurs.
What is heartening to see is the likes of Naval Ravikant, Balaji S, and Punit Soni stepping-up and fueling the imagination, and offering the necessary incentives to support the moves towards self-reliance with Made in India apps.