There are >1.3 billion reasons to make technology accessible.
Disability could be permanent, temporary or situational.
The legal, ethical and moral imperatives for accessible tech has been well-known and established. It took a black swan event to put accessibility at the core of businesses.
With the advancements in technology, there is significant opportunity as well as imperatives, than ever before, to create and empower everyone to achieve more, including people with disabilities.
Tech giants have been focused on making inclusion a core aspect of their businesses. At the MWC 2022, I was privileged to have an opportunity to listen to titans from Apple, Google and Microsoft on making tech accessible for people with disabilities.
In fostering accessibility, tech companies are increasingly focused on collaboration, rather than competition. This involves educating engineers across tech majors to understand accessibility, including understanding lived experiences of communities.
Apple has made accessibility a focus for decades. Apple has introduced features to help people with low vision navigate the iPhone's touch screen. It has also enabled people with motor impairments to virtually tap on interface icons. Apple introduced an iPhone 12 Pro feature that lets people who are blind detect others around them using LIDAR. In 2021, Apple introduced new accessibility features. It updated its screen reader, VoiceOver, to enable better image descriptions for those with visual impairments. It also included the introduction of background sounds for people with neuro-diverse needs. With Assistive Touch on the Apple Watch, Apple enabled touch-free interactions with its watch. To navigate the Apple Watch, Apple users can clench their fists or pinch their fingers together. For those with hearing impairments, Apple enabled bi-directional communicating using hearing aids. Lastly, for the developer community, Apple added tools using SwiftUI to make inclusive apps possible.

Microsoft has been focused on fostering accessibility by hiring as well as educating people with disabilities. By leveraging Artificial Intelligence (AI) and other technologies, Microsoft is bringing accessibility as a core design element across its product and services portfolio. For instance, Microsoft expanded the coverage of Immersive Reader, used by 35Mn people every month, to support the comprehension of PowerPoint slides and notes. Live captioning and transcription capabilities have been introduced in MS Teams. MS Word is now able to detect and convert to heading styles crucial for blind and low-vision readers. It also rolled out support for CART (Communication Access Realtime Translation) captions, as well as the ability to pin and spotlight multiple presenters. Auto-captioning was made available for LinkedIn Live broadcasts.
To make it easier for persons with disabilities to use Microsoft's hardware easier to use, a new Surface Adaptive Kit was introduced. The Kit comprises of tags, labels, and keycaps, among others, to make PC parts and important buttons more identifiable. Lastly, Microsoft empowered software developers by embedding accessibility tools, prompts and AI-driven automation to make accessibility as a core element of the product development cycle.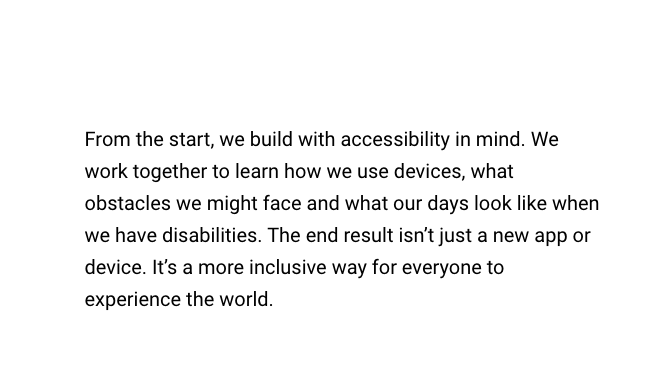 Google has been focused on bring several accessibility enhancements, on a regular basis, across its vast product portfolio – from Android to Chromebook, from Pixel to Google Assistant.
Lookout by Google is a free smartphone app for Android devices that can automatically read and scan text, recognise products and describe objects. Google created Live Transcribe and Sound Amplifier to help users who are deaf and hard of hearing. Google introduced a Braille keyboard in its TalkBack screen reader for Android, as well as updates to its Lookout app for the visually impaired. Google introduced automatic captioning on YouTube using AI. It followed it up with the ability to caption sound effects, such as laughter and applause, among others, to make video content even more accessible. In 2021, Google launched an Android app, Project Relate, focused on generating custom voice recognition models for people with severe speech impairments. Some other enhancements include the launch of 'Look to Speak' app that enable users to use their eyes to pick out phrases for their smartphones to speak out loud.
Collaborating for Interoperability in Accessibility
When it comes to accessible tech, tech majors work with each other to foster greater inclusive tech. Instead of competition, the focus is on greater collaboration to ensure interoperability to ensure optimal experiences for the end user – person with disability. For instance, Google products have to work smoothly on both Microsoft Windows, as well as Apple iOS. Similarly, the LiDAR on Apple iPhone has been leveraged by the blind community within Microsoft to add new features, such as Seeing AI, to recognize the environment around them using AI.
What Accessibility and Inclusion translate to?
Accessibility and inclusive design, as core values, should be truly embedded across the product development value chain – across design, research and development, to experience design.
Global tech majors support their engineers to work with persons with disabilities to get sensitized and ensure that their products and services are truly inclusive. Such cultural change can be empowering, enabling employers to tap into, and work with an, as yet, untapped talent pool.
In conclusion, it is key to map the basic principles of accessibility, develop skills to identify accessibility issues and develop solutions.
Accessibility, as a strategic business imperative, enables parity in workplace participation and business productivity.
When it comes to metrics for measuring accessibility, some key pillars to look at for accessibility include vision, leadership and processes, amongst others.