In 2016, Mukesh D. Ambani, RIL Chairman & Managing Director, addressed the Annual General Meeting (AGM) of Reliance Industries Limited (RIL). This AGM was a historic one, where he launched Jio, in a move transiting the company from oil to data. This announcement was preceded by years of focus on building the requisite infrastructure, and laid the foundation for rise of Jio Platforms in the times to come.
This what Mr Ambani said at the AGM then: 
The world is at the beginning of a digital revolution. Anything and everything that can go digital is going digital – at an exponential rate. In this era, if you are not digital, and if you don't have globally competitive digital tools and skills, you simply will not survive. You will get disrupted. You will be outcompeted. You will be left behind. You will become irrelevant. India and Indians cannot afford to be left behind. Today, India is ranked 155th in the world for mobile broadband Internet access, out of 230 countries. Jio is conceived to change this. I have no doubt that with the launch of Jio, India's rank will go up to among the top ten. 1.2 Billion Indians cannot be left behind as the world enters a new era.
According to Mr Ambani, the Jio ecosystem stands tall on five fundamental pillars:
The best quality broadband network with the highest capacity
A world of affordable, 4G smartphones and wireless IP devices
Compelling applications and content
Superior digital service experiences, and
Affordable and simple tariffs
From the very outset, while Jio was still being conceived, Mr Ambani and his team were clear that Jio needed to adopt a disruptive strategy – carriage, content and commerce, that stood in sharp contrast to the incumbents. It did so, by first focusing on the core of the network. In an audacious feat not seen anywhere else before, here was a company aiming to do what other telcos had not done before.  Jio focused on building a data-centric 4G LTE-only network from scratch.
In its greenfield 4G LTE deployment, Jio pumped in $25Bn to develop a pan-India communications network, focused on an high-speed, all-IP network with broad national coverage and substantial network capacity.
Jio's focus, right from the initial days, was clear on a smart integration of content, services, and the network. Jio saw itself as a digital platform, rather than a mere telco player. In focusing on its market approach, Jio took many unconventional approaches. With the customer centricity at the core, Jio was able to overcome the barriers of entry associated with infrastructure. In offering free data, voice and SMS to customers in the first six months, Jio was able to finetune its fledgling network. It further disrupted the market by giving away voice for free, forever.
Upon its debut, Jio secured its first 16Mn subscribers in the very first month. A month later, Jio added 20Mn more subscribers. In the first 22 months, Jio's subscriber base crossed the 200Mn mark.
Jio's has been powerful. Data consumption in India grew by 47% in 2019 with 4G constituting 96% of the total data traffic consumed, whereas 3G data traffic showed its highest ever decline of 30%
To complement its greenfield 4G roll-out, Jio focused on building affordable 4G devices. It put together a 4G devices strategy, wherein first it got the devices made in China. Later on, Jio designed new 4G devices from scratch.
With its first-mover advantage, Jio was able to quickly build its 4G smartphone user base with LYF. Soon, Jio realized the need for devices aimed at the feature phone segment, that are typically high on voice and SMS. These smart feature phones came with a feature phone form factor with 4G connectivity and access to a closed apps ecosystem with limited smart features.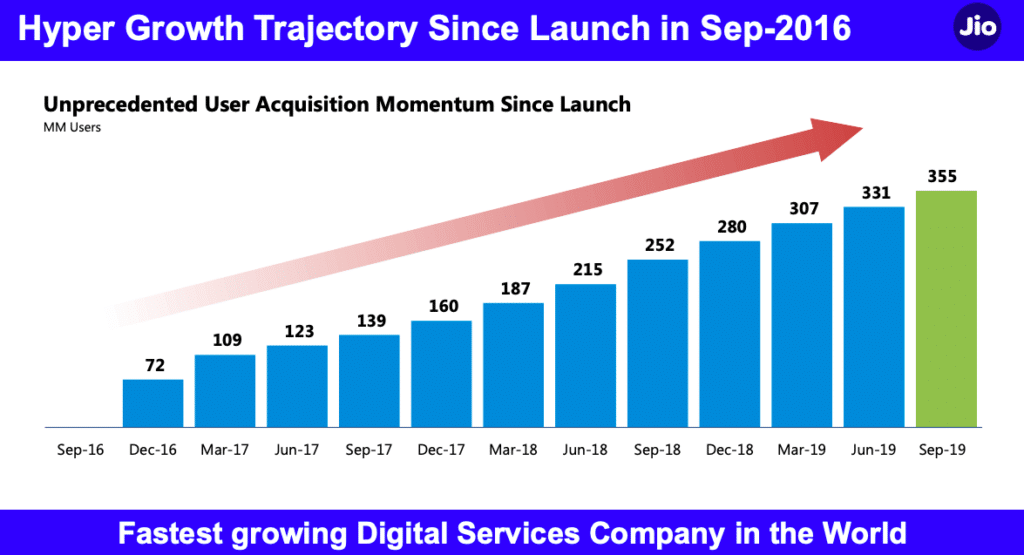 The Jiophone contributed to further growth in Jio's subscriber base. As a result, over the past four years, Jio has completely disrupted the market landscape, and securing a closed network of close to 400Mn 4G subscribers.
As India stands at the cusp of 5G in India, Jio is once again seeking to replicating its affordable devices play to disrupt 5G smartphone, in association with Google that will build a specially optimized Android OS for the 5G phone. The affordable entry-level smartphone play, in association with Google, has the potential to unlock and fuel the growth of entry-level smartphone market. Both players have, in the past, tried to focus on this segment with limited success.  The new partnership will be an attractive value proposition for feature phone users seeking to migrate to smartphones.
In 2019, India consumed roughly about 12GB data per month on an average. This is the highest data consumption globally. By 2025, the data consumption is set to spike to about 25 GB per month.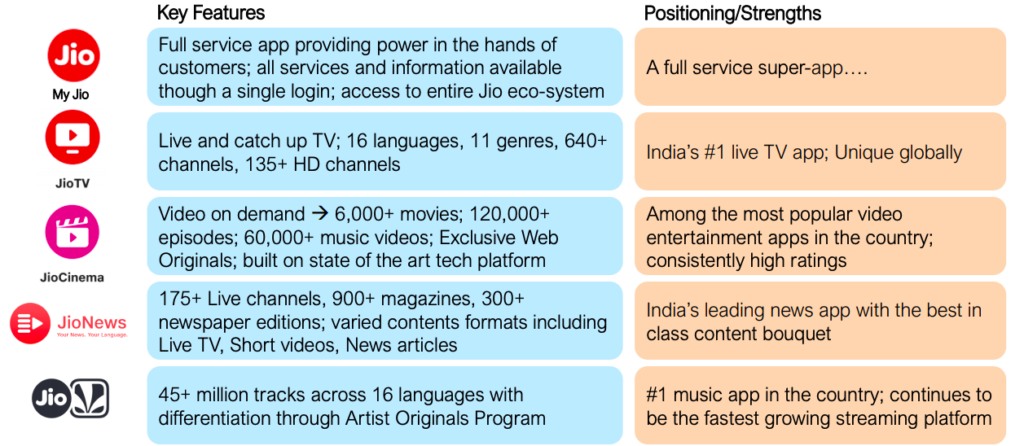 More than ever before, India's digital economy is strong and booming. At the core of this success story, is the role played by Jio. The strong Jio 4G subscriber base that is central to Jio's future platform growth story.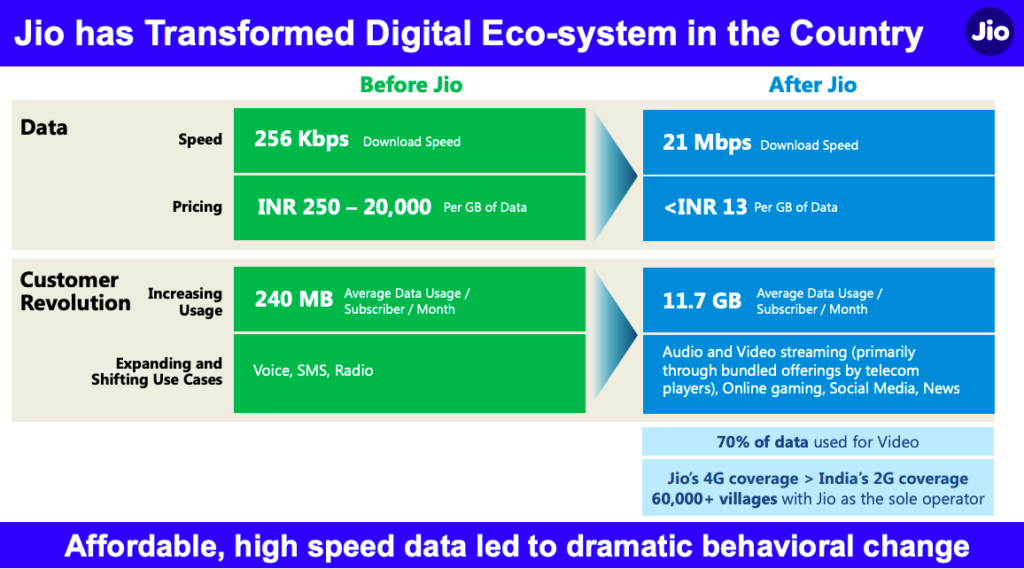 It also explains why investors have rushed in to get a pie of Jio, in the midst of the pandemic.
Investors Rush In
On April 22, Facebook invested $5.7Bn for a 10% stake into Jio Platforms. It marked the beginning of a strong investor interest in Jio Platforms.  Since then, six U.S. Private Equity firms have invested in Jio Platforms.
In the month of May, Silver Lake Partners invested $750Mn for a 1.15% stake.  US-based Private Equity firm, Vista Equity Partners acquired a 2.32% stake for $1.5Bn.
General Atlantic acquired a 1.3% stake for $870Mn. KKR Asia PE Fund secured a 2.3% stake for $1.5Bn.
In June 2020, there was a flurry of investments in Jio Platforms. Mubadala Investment Company, the Emirati sovereign fund, acquired a 1.85% equity stake for $1.2Bn. Silver Lake upped its investment in Jio with an additional investment of $600Mn, raising its equity stake to 2.08%. Abu Dhabi Investment Authority (ADIA) acquired a 1.16% stake for $750Mn. TPG, a PE firm, acquired 0.93% stake for $600Mn, while L Catterton invested $250Mn for a 0.39% equity stake. Saudi Arabia's sovereign fund, The Public Investment Fund (PIF) acquired a 2.32% stake for $1.5Bn.
In July 2020, Intel Capital announced its acquisition of a 0.39% stake in Jio Platforms for $253Mn. Qualcomm Ventures, the venture capital arm of Qualcomm, acquired a 0.15% stake for $97Mn. Google completed the investment round for Jio Platforms, with a $4.7Bn investment for a 7.7% stake.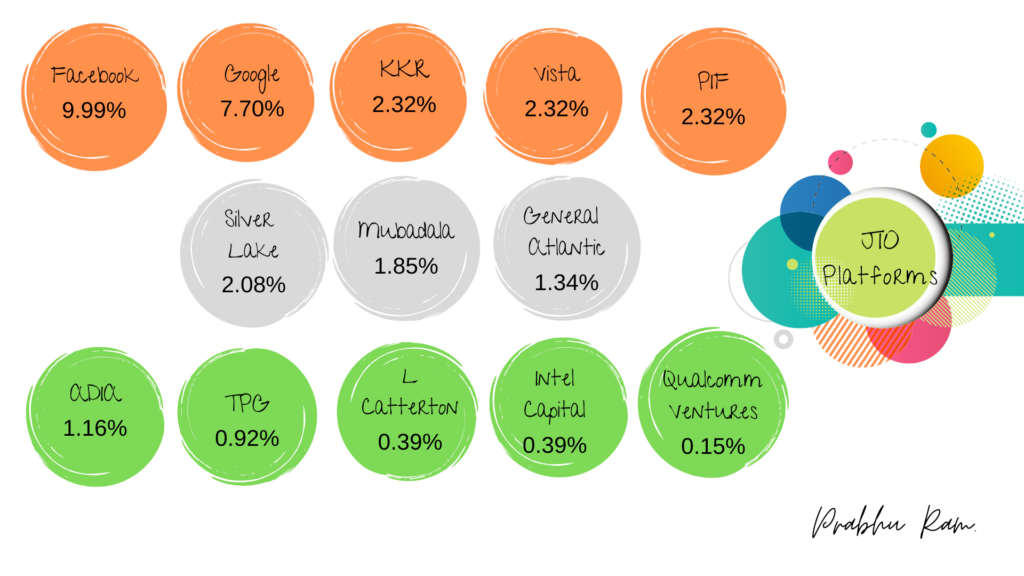 Thanks to all the investments, Jio is now debt-free. It is now well-positioned to steer India's digital economy.
Jio as an Amoeba Enterprise
At the RIL AGM, Mr Mukesh Ambani, RIL Chairman & Managing Director, spoke at length on the start-up focus of Jio Platforms:
Let me start with our first Hyper-Growth Engine – JIO… our digital service initiative.

I would like to first share with you the philosophy that animates Jio's current and future initiatives.

The Digital Revolution marks the greatest disruptive transformation in the history of mankind.

Comparable only to the appearance of human beings with intelligence capabilities on our planet about 50,000 years ago.

It is comparable because man is now beginning to infuse almost limitless intelligence into the world around him.

We are today at the initial stages of the evolution of an INTELLIGENT PLANET.

Unlike in the past, this evolution will proceed with a revolutionary speed.

Our world will change more unrecognizably in just the eight remaining decades of the 21st century than today's world has changed from what it was 20 centuries ago.

For the first time in history, mankind has an opportunity to solve big problems inherited from the past.

This will create a world of prosperity, beauty and happiness for all.

India must lead this change to create a better world.

For this, all our people and all our enterprises have to be enabled and empowered with the necessary technology infrastructure and capabilities.

This is Jio's purpose. This is Jio's ambition.
India has a strong digital economy. As a nation, India leapfrogged into the digital economy by embracing the mobile phone. In fact, no other nation has embraced mobile the way India has. Mobile phones have opened a new world of possibilities to Indians everywhere, going beyond mere communications, to accessing education, e-commerce, finance, healthcare, entertainment, and interfacing with the government. Whether it be internet connections or app downloads, India has made impressive strides to grow as a mobile-first nation. In 2020, India has >500Mn active internet users. Indians downloaded 19 billion apps in 2019, signifying a 195% growth in the three years since 2016. India offers significant potential for the platform approach that Jio Platforms has adopted.
Jio is an 'Amoeba' enterprise. Just like an Amoeba has the ability to alter its shape, Jio pursues a path of continuous innovation and evolution.
On the one hand, Jio Platforms has focused on continuously developing its India-centric technology capabilities, through a string of start-up acquisitions. Jio has also actively focused on seeding and enabling new ideas to scale through dedicated accelerator programs. For instance,  JioGenNext, Reliance's accelerator runs a three months long intensive mentoring program that enables start-ups with product development, distribution and market linkages. Based on the progress and scale attained by the start-ups, Jio gets a ready pipeline of interesting start-ups that could be looked as acquisition targets, or targets for commercial partnerships and further investments. Alongside, Jio has been prudent in not competing with, but rather co-opting tech giants like Facebook and Google.
A common leit motif that dominates Jio Platforms's growth story has been its focus on leapfrogging: whether it be 4G, or 4G to 5G.
As Vikram Sarabhai explained in his own words:
"Our national goals involve leapfrogging from a state of economic backwardness and social disabilities attempting to achieve in a few decades a change which has incidentally taken centuries in other countries and in other lands."
In developing its full tech stack, Jio has built in-house capabilities and supplemented it with a string of start-up acquisitions. Jio spent $1.2Bn on telecom and internet firms, $566Mn on media and edtech, and $100Mn in digital.
Given the strong financial muscle that Jio has, there is an unwavering focus on continuing to gain new expertise and talent. The further acquisitions by the acquired entities is specifically for the purpose of gaining new technologies, and enhancing overall product portfolio, cutting short on time and investment in developing it in-house.
 At the RIL AGM, Mr Mukesh Ambani, RIL Chairman & Managing Director, spoke at length on the start-up focus of Jio Platforms:
JIO PLATFORMS is conceived with this vision… of developing original, captive INTELLECTUAL PROPERTY… using which we can demonstrate the transformative power of technology across multiple Industry ecosystems … First in India…

And then confidently offering these Made-in-India solutions to the rest of the world.

Applications like MyJio and Jio SAAVN have already become household names and are used by hundreds of millions of loyal customers each month.

JIO PLATFORMS, along with its over 20 start-up partners who are now part of our family, has built significant world- class capabilities in several cutting-edge technologies…

ONE… 4G and 5G technologies
TWO… Cloud Computing
THREE… Devices and Operating Systems

FOUR… Big Data Analytics
FIVE… Machine Learning and Artificial Intelligence

SIX… Virtual and Mixed Reality
SEVEN… Block Chain
EIGHT… Natural Language Understanding

NINE… Computer Vision…

Using these technologies, we can create compelling solutions that span multiple Industry verticals and ecosystems… like Media…Financial Services…New Commerce… Education…Healthcare… Agriculture…Smart Cities…Smart Manufacturing…and Smart Mobility.

These are the technologies and ecosystem solutions that hold the power to achieve 360-degree digital transformation of India.

Our start-up partners have contributed significantly to our strengths across many of these areas…

And we are inviting even more start-ups to join forces with us.

Over the course of the past three-four years, Jio Platforms has been aggressively acquiring, and investing in start-ups, cutting across technology domains.
5G
With its intent of preparing for 5G and the IoT era,  Jio Platforms acquired Radisys, a US-based telecom software company in a deal valued around $70Mn.
Radisys serves service providers and telecom equipment vendors by providing disruptive open-centric software, hardware and service capabilities that enable the migration to next-generation network topologies.
In recent years, Radisys has been focused on systems integration and software development, that support software-based media processing, virtualized radio access network capabilities, and an early standards-based 5G software suite –  focusing on Next Generation NodeB (gNB), 5G User Equipment (UE) and 5G Core Network (CN).
Jio will tap into Radisys's virtualization expertise as well as its intellectual property and human capital to further its own progress and technology leadership in the areas of 5G, IoT and open source architecture adoption.
As and when the Government auctions 5G spectrum, Jio will be in pole-position to participate and roll-out 5G in India.
 EdTech
With her start-up, Embibe, Aditi Avasthi aimed to democratize education. However, deep tech platforms in India face multiple challenges, ranging from capital to talent, from knowledge networks to mentoring.
Embibe's EdTech platform has a focus on students cutting across K-12, higher education, and professional skilling, among others. Embibe has developed an AI stack built around content intelligence and automation, behavioural recommendations, and fostering student intelligence.
Embibe is an Artificial Intelligence powered learning platform, where Jio has acquired 73% stake.
Embibe is leveraging capital infusion from Jio towards deepening its R&D on AI in education, as well as business growth and geographic expansion, catering to students across K-12, higher education, professional skilling, vernacular languages and all curriculum categories across India and internationally.
Embibe acquired K12 startup, Funtoot in end 2019. In February 2020, Embibe has acqui-hired test prep platform OnlineTyari.
Jio is looking at leveraging Embibe's tech to target, and cover over 1.9 Mn schools and 58,000 universities across India. While doing so, Jio is aiming to cross-leverage its devices play, including Jio Glasses.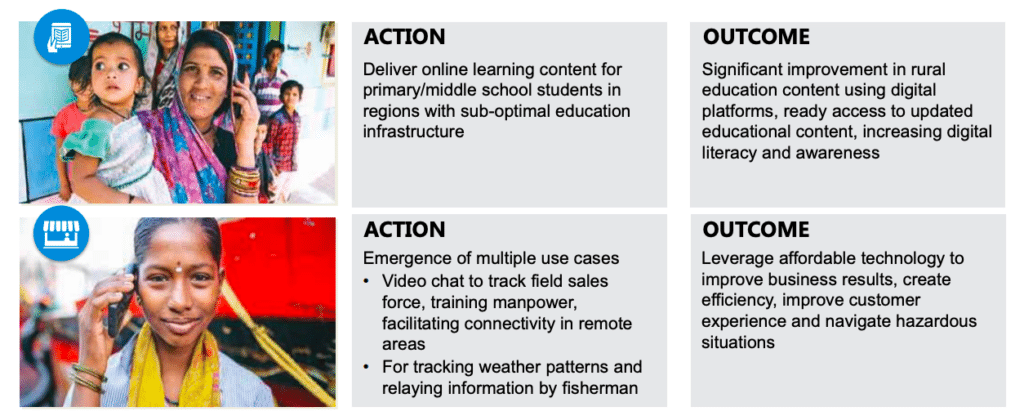 Mixed Reality
Tesseract is a deep-tech startup and has launched three hardware and two software products in the MR, AR, and VR spaces. On the AR side, the company is focused more on "content consumption" while in VR, it concentrates on "content capture".
Founded in 2015, Tesseract is a MIT Media Lab spin-off focused on fulfilling the promise and potential of AR/VR that Kshitij Marwah saw.
Jio had acquired a 92.7% stake in Tesseract in 2019, and is leveraging its capabilities in pushing forth its initiatives in mixed reality. It is credited with innovations, such as the Quark VR camera, the Holoboard AR viewing headset. It unveiled the Jio Glass at the most recent RIL AGM. Jio's mixed reality vision is focused on enabling education and healthcare.
Conversational AI
India is a vibrant digital-first nation that is linguistically diverse. Yet, it also suffers from limited digital literacy. In India, <15% of the 300Mn internet users in India are shopping online; and <15% of Indians are proficient in English. Language is the biggest barrier for digital economy in India.
This is where the potential of conversational AI to break barriers is high. It is no longer just about communication, but using multi-lingual conversational user interfaces to drive many different use cases, including enabling voice commerce in vernacular languages.
In 2019, Jio acquired Haptik, the Mumbai-based conversational AI platform, and has 87% stake in the company.
Haptik was founded by Aakrit Vaish and Swapan Rajdev, both University of Illinois engineering alumni in 2013. A year later, it launched the Haptik app, a chat-based personal assistant which lets its users to get things done for Android and iOS platforms in India.
Haptik counts brands such  as Samsung, Coca-Cola, and Tata Group among its clients.
With the deal, Jio is looking to leverage Haptik's capabilities across various devices and touchpoints in the consumer's journey.
Since Jio's acquisition, Haptik has been augmenting and building its voice and chat commerce capabilities through further acquisitions, such as Buzzo.ai, and acqui-hiring of Convrg, a US-based AI startup.
Vernacular AI
 in 2009, Arvind Phani, SK Mohanty and Vivekananda Pani came together to build Reverie Language Technologies, aiming to democratize India's internet by offering cutting-edge, end-to-end, Indic language solutions.
Indian language content is currently available online in 22 key languages. Yet, their searchability is hampered by incomplete  'search engine optimisation' or SEO.
Reverie provides a voice suite in Indian vernacular languages like Hindi, Telugu, Tamil, Bengali, and Marathi, among others. These can be integrated with both chatbots and Interactive Voice Response (IVR) solutions which companies can use to engage with non-English speaking customers. Its clients include Qualcomm, Practo, Ola Cabs, and BHIM, among others.
Jio Platforms has acquired 83.3% stake in Reverie. Going forward, Jio Platforms will seek to drive Indic language inclusion across its devices and other play.
Communication Interfaces
In 2015, Amit Shukla founded Easygov, a Software-as-a-Service startup,  that provides cloud services to improve efficient, transparent and effective delivery of citizen centric software solutions and services.
The startup backed by Rajan Anandan and Tata Trusts, found flavour with Reliance. The company has taken a 76% equity stake in Easygov on a fully diluted basis. The total investment is likely to be completed by March 2021.
Retail
Jio has acquired a series of start-ups to bolster its end-to-end retail play, including hyperlocal logistics, online-2-offline (O2O) delivery models, and e-commerce.
Hyperlocal Logistics
Grab was founded in 2012 by Jignesh Patel, Nishant Vora, and Pratish Sanghvi and provides services ranging from on-demand, reverse deliveries, first mile, and last mile logistics.
The company is operating in 49 cities and claims to have delivered 127 Mn orders till date. Some of its clients include McDonalds, BigBasket, Myntra, Amazon Now, and Swiggy.
Jio has acquired a 83% stake in Grab. The investment will support the digital commerce initiatives and strengthen its logistics services, catering to both B2B (business-to-business) and B2C (Business-to-consumer) segments.
Other Tech Initiatives
Jio has also focused on building capabilities, cutting across digital entertainment  to driver safety.
When it comes to digital entertainment,  Jio has investments in Den Networks and Hathway Cable and Datacom. These investments were aimed to bolster the rollout of Jio GigaFiber. The GigaFiber portfolio includes home broadband, entertainment, smart home solutions, wireline and enterprise. It is being rolled out across 1,600 cities.
In 2018, Jio acquired Saavn, and created JioSaavn, that leveraged the streaming media expertise of Saavn with Jio's digital services ecosystem.
Jio has a 37.4% stake in Netradyne, an AI firm focused on driver and commercial fleet safety. Netradyne has built Driveri, a vision-based driver recognition and fleet safety platform that provides commercial fleet managers with insights into positive driving and identifying opportunities for individual coaching.
Going forward, Jio has its focus on further acquisitions to bolster its health and edtech forays. It will potentially seek to acquire online pharmacy player, Netmeds. This will pit Jio against the likes of 1mg, Pharmeasy, Medlife and other online pharmacy players.
It will be interesting to see how and where Jio's journey leads to, from here on.
Jio has done well in the midst of the pandemic, and this bodes well for India's digital economy and its further transformation. Over the coming years, Jio's recent investments will start taking shape. At the same time, as a monopolistic player, it will continue to rule the big tent for Indian start-ups, and for global enterprises seeking a piece of the action in India in a post-pandemic era.