The Ray-Ban Stories mark the first smart glasses that Meta has made in association with Ray-Ban. At first glance, the Ray-Ban Stories may seem like the familiar, old yet stylish Ray-Ban styles, including the Wayfarer, Round and Meteor. The first-generation Ray-Ban Stories are not AR-enabled.
All the Stories glasses sport the iconic Ray-Ban design, albeit their stem is a bit bigger. It is not something you will notice at first glance, unless when you place the Stories next to the original Ray-Bans.
The Ray-Ban stories offer a good prototype for the future that Meta is aiming at. For Meta, the Ray-Ban Stories enable "a new way to seamlessly capture, share and listen through one's most authentic moments." While they do not come with an in-built display, they do offer built-in two open-air audio drivers, three microphones, dual-lens camera recording, and 4GB of storage.
The Ray-Ban Stories are versatile, and both audio and camera delivers. For instance, the audio playback offers a great listening experience. The dual 5MP cameras do the work in good lighting conditions. Speaking of camera, photos are captured at 2592 x 1944-pixel resolution, whereas video capture is at 1184 x 1184 pixels (30 frames per second). The ease of use, of capturing videos and photos on the go, is what Stories is angling at.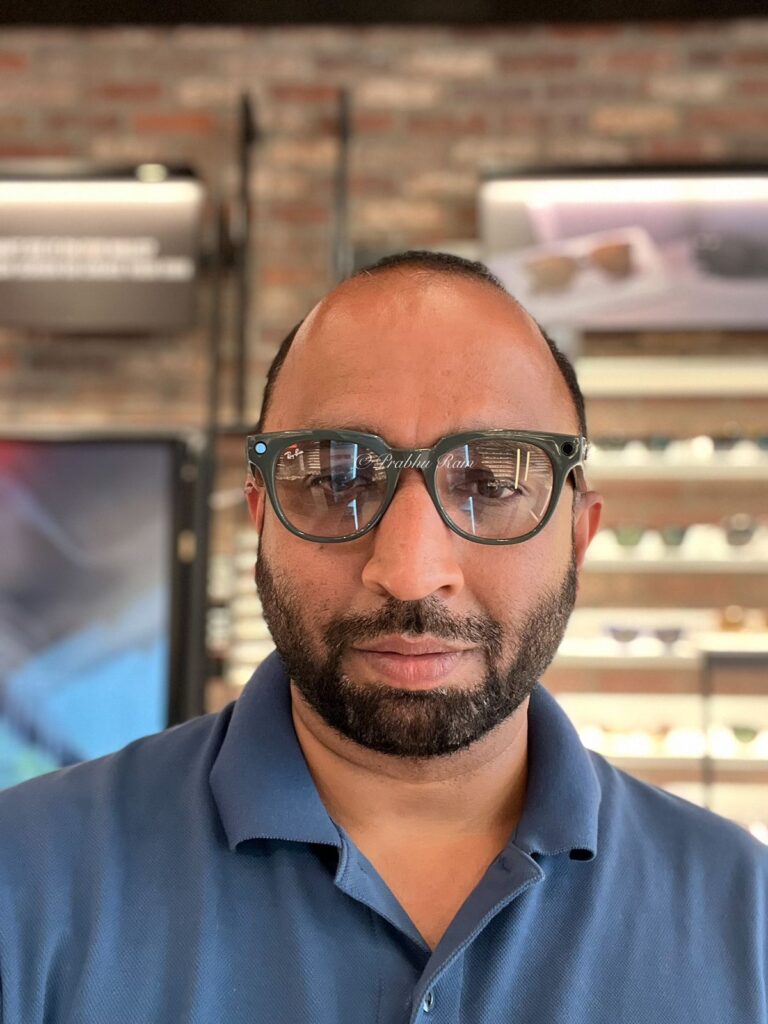 The open-air audio drivers enables users to listen to music unobtrusively, obliterating the need for headphones, or earphones, or earbuds.
The 4GB storage is good for capturing 500+ photos, or 30+ thirty- second videos.
In Conclusion
The Ray-Ban Stories are not truly path-breaking from a tech innovation perspective. However, they do hold the maximum potential to mainstream the market for smart glasses, given the rather perfect integration that Meta has accomplished with Ray-Ban and their iconic glasses. They are comfortable to use.
For the privacy-minded, there is a LED light indicator in the front of the Stories glasses that lits-up when the camera recording is in progress. The Stories also come with in-built Facebook Assistant, which get activated when the user says 'Hey Facebook!'.
The next-generation Ray-Ban Stories would have to come with more software enhancements. For instance, a much better in-built app integration with Facebook and Instagram apps would enable users to shoot photos and videos on their Stories, and transfer to their social media feeds seamlessly.
For today's born-in-the-social media-generation, the Ray-Ban Stories with its suite of features may appeal the most. They are cool to sport, and are iconic to boot.
The Ray-Ban Stories retail at $299.