The Indian ecommerce sector is bracing itself for a summer launch by Jio. Jio has plans to launch the world's largest Online-to-Offline (O2O) e-commerce platform. Alongside, it is also investing its energies in creating a 'Super App', imagine a  broad digital ecosystem that will provide over 100 services at one go. Previously, many companies, including Flipkart and Paytm, have aspired to create a super app in India, but have been unable to breakthrough.
The Pioneering Super App: WeChat
The genesis of the 'Super App' can be traced to China's successful WeChat, that counts over a billion active users globally. Known in China as Weixin, the local WeChat version enables one to send and receive money, shop online, order food, pay utility bills, or even, check-in on flights.  Broadly speaking, WeChat can be categorized into social media, information via blogs, ecommerce and utility payments, and 'mini programs' that  offer games, access to offline events, discounts and much more.
In essence, WeChat is a one-stop ecosystem that offers all the functionalities that the likes of Whatsapp, Facebook, Amazon, Uber, Apple Pay and others offer on their individual apps.
Why is WeChat successful? Launched in 2011, WeChat quickly captured a market of mobile-first, digital explorers, by offering a bouquet of services. And, over a period of time, WeChat has evolved itself, and dominating the landscape.
Jio and the Indian Super App
Just like China, India is a mobile-first nation. Many Indians have found true independence via their mobiles. Whether it be economic progress or education, access to healthcare, or consuming entertainment, the mobiles have played a key role in shaping new realities for Indians everywhere.
Interestingly, 4G devices shipments grew to 215 million at end-2018, from a mere 75 million two years ago. This growth can be traced to the entry of Reliance Jio in the telecom sector.
The ubiquitousness  of Jio devices has given Reliance Jio a broad platform to segway into ecommerce. Reliance Jio can tap into, and connect its vast ecosystem of its users via a multi-layered fabric. Such a fabric can offer a rich array of services, in an online-to-offline ecommerce model, and facilitated through a one-stop, super app. Such a self-contained network that offers convenience will find favour with Jio's consumer base.
Jio's 'Super App' Tech Stack
Over the past many months, Jio has been actively pursuing a proactive strategy of tech acquisitions and investments.
As a result, the tech stack at Reliance Jio now includes a Conversational AI layer, a vernacular layer, a logistics layer, a content  layer, as well as a AI-based education layer. All of these layers, on top of the Jio devices network potentially puts Reliance in a pole position to create India's WeChat, where others failed.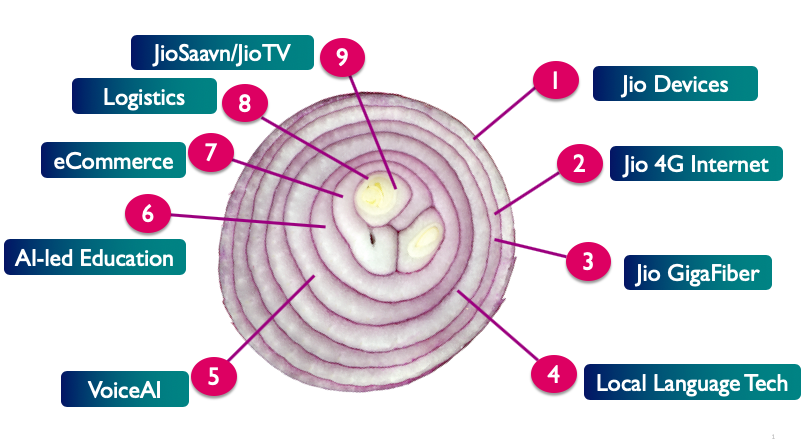 A String of Acquisitions
Almost a year ago, Reliance Jio kicked-off its aggressive strategy. It integrated JioMusic, and Audio OTT platform, Saavn. JioSaavn, the combined entity, competes against the likes of Amazon Music, Apple Music, and Gaana.
EdTech
With her start-up, Embibe, Aditi Avasthi aimed to democratize education. However, deep tech platforms in India face multiple challenges, ranging from capital to talent, from knowledge networks to mentoring.
Embibe's EdTech platform has a focus on students cutting across K-12, higher education, and professional skilling, among others. Embibe has developed an AI stack built around content intelligence and automation, behavioural recommendations, and fostering student intelligence.
Embibe is an Artificial Intelligence powered learning platform, where Jio has acquired 73% stake.
Embibe is leveraging capital infusion from Jio towards deepening its R&D on AI in education, as well as business growth and geographic expansion, catering to students across K-12, higher education, professional skilling, vernacular languages and all curriculum categories across India and internationally.
Embibe acquired K12 startup, Funtoot in end 2019. In February 2020, Embibe has acqui-hired test prep platform OnlineTyari.
Jio is looking at leveraging Embibe's tech to target, and cover over 1.9 Mn schools and 58,000 universities across India. While doing so, Jio is aiming to cross-leverage its devices play, including Jio Glasses.
Mixed Reality
Tesseract is a deep-tech startup and has launched three hardware and two software products in the MR, AR, and VR spaces. On the AR side, the company is focused more on "content consumption" while in VR, it concentrates on "content capture".
Founded in 2015, Tesseract is a MIT Media Lab spin-off focused on fulfilling the promise and potential of AR/VR that Kshitij Marwah saw.
Jio had acquired a 92.7% stake in Tesseract in 2019, and is leveraging its capabilities in pushing forth its initiatives in mixed reality. It is credited with innovations, such as the Quark VR camera, the Holoboard AR viewing headset. It unveiled the Jio Glass at the most recent RIL AGM. Jio's mixed reality vision is focused on enabling education and healthcare.
Conversational AI
India is a vibrant digital-first nation that is linguistically diverse. Yet, it also suffers from limited digital literacy. In India, <15% of the 300Mn internet users in India are shopping online; and <15% of Indians are proficient in English. Language is the biggest barrier for digital economy in India.
This is where the potential of conversational AI to break barriers is high. It is no longer just about communication, but using multi-lingual conversational user interfaces to drive many different use cases, including enabling voice commerce in vernacular languages.
In 2019, Jio acquired Haptik, the Mumbai-based conversational AI platform, and has 87% stake in the company.
Haptik was founded by Aakrit Vaish and Swapan Rajdev, both University of Illinois engineering alumni in 2013. A year later, it launched the Haptik app, a chat-based personal assistant which lets its users to get things done for Android and iOS platforms in India.
Haptik counts brands such  as Samsung, Coca-Cola, and Tata Group among its clients.
With the deal, Jio is looking to leverage Haptik's capabilities across various devices and touchpoints in the consumer's journey.
Since Jio's acquisition, Haptik has been augmenting and building its voice and chat commerce capabilities through further acquisitions, such as Buzzo.ai, and acqui-hiring of Convrg, a US-based AI startup.
Vernacular AI
 in 2009, Arvind Phani, SK Mohanty and Vivekananda Pani came together to build Reverie Language Technologies, aiming to democratize India's internet by offering cutting-edge, end-to-end, Indic language solutions.
Indian language content is currently available online in 22 key languages. Yet, their searchability is hampered by incomplete  'search engine optimisation' or SEO.
Reverie provides a voice suite in Indian vernacular languages like Hindi, Telugu, Tamil, Bengali, and Marathi, among others. These can be integrated with both chatbots and Interactive Voice Response (IVR) solutions which companies can use to engage with non-English speaking customers. Its clients include Qualcomm, Practo, Ola Cabs, and BHIM, among others.
Jio Platforms has acquired 83.3% stake in Reverie. Going forward, Jio Platforms will seek to drive Indic language inclusion across its devices and other play.
Communication Interfaces
In 2015, Amit Shukla founded Easygov, a Software-as-a-Service startup,  that provides cloud services to improve efficient, transparent and effective delivery of citizen centric software solutions and services.
The startup backed by Rajan Anandan and Tata Trusts, found flavour with Reliance. The company has taken a 76% equity stake in Easygov on a fully diluted basis. The total investment is likely to be completed by March 2021.
Retail
Jio has acquired a series of start-ups to bolster its end-to-end retail play, including hyperlocal logistics, online-2-offline (O2O) delivery models, and e-commerce.
Hyperlocal Logistics
Grab was founded in 2012 by Jignesh Patel, Nishant Vora, and Pratish Sanghvi and provides services ranging from on-demand, reverse deliveries, first mile, and last mile logistics.
The company is operating in 49 cities and claims to have delivered 127 Mn orders till date. Some of its clients include McDonalds, BigBasket, Myntra, Amazon Now, and Swiggy.
Jio has acquired a 83% stake in Grab. The investment will support the digital commerce initiatives and strengthen its logistics services, catering to both B2B (business-to-business) and B2C (Business-to-consumer) segments.
Other Tech Initiatives
Jio has also focused on building capabilities, cutting across digital entertainment  to driver safety.
When it comes to digital entertainment,  Jio has investments in Den Networks and Hathway Cable and Datacom. These investments were aimed to bolster the rollout of Jio GigaFiber. The GigaFiber portfolio includes home broadband, entertainment, smart home solutions, wireline and enterprise. It is being rolled out across 1,600 cities.
In 2018, Jio acquired Saavn, and created JioSaavn, that leveraged the streaming media expertise of Saavn with Jio's digital services ecosystem.
Jio has a 37.4% stake in Netradyne, an AI firm focused on driver and commercial fleet safety. Netradyne has built Driveri, a vision-based driver recognition and fleet safety platform that provides commercial fleet managers with insights into positive driving and identifying opportunities for individual coaching.
In Conclusion
Over the coming months, Reliance Jio will step-up on their aggressive acquisition strategy.
Jio's O2O ecosystem will encompass a vast network of 12 million kirana stores nationwide. In addition, Reliance Retail plans to convert >5000 Jio point of sales stores, across 5000 cities and towns, into delivery and collection points.
Jio's user base in rural India posits a vast unexplored, and untapped ecommerce market opportunity. If Reliance ensures that the last-mile delivery is seamless, it will have the tailwinds to carve out a niche for itself in India's ecommerce sector.
Imagine such a vast user base, using the Jio App, conversing in their local language, consuming content, communicating, and most importantly, transacting online using just VoiceAI.