At Apple's Worldwide Developers Conference (WWDC), Apple showcased some pathbreaking on-device health-related software innovations in its upcoming iOS 15. In essence, Apple is diving deeper into healthcare, providing consumers with more health insights. iOS 15 can identify, measure, and understand changes in a person's health data. While doing so, Apple is allowing users to share their health data with their loved ones and their physicians in the US. Making all this possible is Apple's strong cred as a Privacy Champion.
The pandemic gave a further thrust to health, with more people paying more attention than before on their wellbeing. For long, Consumer Healthtech has been a key cornerstone for Apple. With its innovative health and wellness insights, Apple has been focused on building strong use cases for its users on iPhone and Apple Watch. The pandemic provides a strong subtext for Apple to further focus on meaningful health innovations.
Here are some of the new health aspects in the iOS 15.
Health Sharing.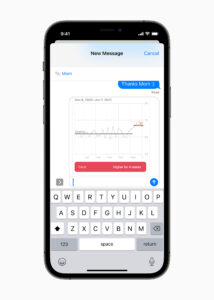 With iOS 15, users will be able  to securely share their health and wellness data with their loved ones and their physicians, making remote healthcare support possible. In the Health app, a new Sharing tab lets users privately share their data with a trusted partner or caregiver. For those whose parents live far away, this will be a nifty tool to safely monitor for health-related alerts, insights and key trends.
As health sharing on iOS 15 evolves further, it holds potential and promise for doctors to continuously monitor their patients in between in-person clinical appointments. For instance, Apple users in the US will be able to share certain types of health data — like heart rate, detected falls, hours of sleep, or exercise minutes — with their doctor, for more informed conversations. At participating healthcare organizations, a physician can review the Apple Health app data that a user chooses to share directly in the electronic health records system.
Trends
The Health app adds trend analysis for data, including resting heart rate and cardio fitness, among others. Users can focus on their health and wellness goals by increasing running distance or mindful minutes. For those looking to monitor insights across areas like insulin delivery, trend analysis applies to data from third-party devices connected to the Health app.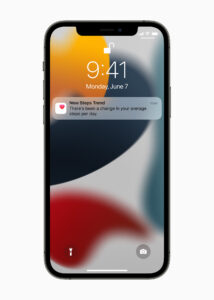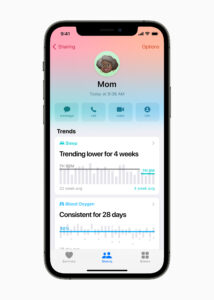 Walking Steadiness
By leveraging custom algorithms to assess balance, stability, and coordination through built-in motion sensors on iPhone, the new "Walking Steadiness" feature on iPhone provides insight into fall risk by capturing important mobility data as users walk with their iPhone.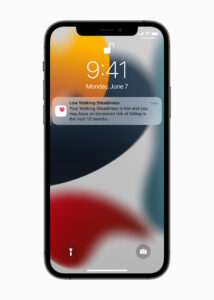 Walking Steadiness offers the added ability to capture everyday movements and surface classifications within the Health app as OK, Low, or Very Low, allowing users to proactively take action to help reduce their risk of falling.
The new health features on iOS 15 focus on personal health monitoring and wellness motivators. They also emphasize on social sharing of health data with loved ones. The future of health will become more meaningful with triangulation of the rich health data from Apple, alongwith personal health data from hospitals.
Making sense of all these rich health data trends will require the use of AI systems that can monitor, analyze and alert doctors.
So, can Apple be trusted with all these new health-related innovations? Can the healthcare provider be trusted with safeguarding your data? Additionally, will healthcare professionals be engaged and contribute further to the new health use cases.
While the future holds the answers, Apple has a strong cred in Privacy. Apple has been at the forefront of advocating privacy as a fundamental human right. And this holds true for its health features. With the new health features, Apple has stated that users will have "granular control" over their data, and the liberty to decide who and what data they want to share with them. The data is encrypted while in transit, and on the user device, it rests behind a passcode, Face ID, or Touch ID.
We are on the cusp of a new health paradigm.